We all know that during the early stages of pregnancy and immediately post birth, our breasts regularly change in size. Some women will experience growth up to 5 cup changes on average – sometimes more.
This change is not always welcomed and can be difficult for fuller busted women. On a daily basis, this change can fluctuate a few cups depending on your feeding routine.
It is imperative during this time that you look after your breasts to help ensure optimal breast health.
We are here to help you and guide you on your journey so the transition is easy and even amazing, especially for the fuller busted women. Find the continual support that you require combined with comfort and above all something that makes you feel beautiful.
How to know if you're wearing the wrong size nursing bra?
Many moms are buying and wearing the wrong nursing bra size, especially if you have large breasts and with the fluctuations that you can experience during the 4th trimester.
Wearing a bra that is too small for you or not supportive enough can be an uncomfortable experience and can cause you all sorts of problems.
The straps keep falling off your shoulders
Your breasts spill over the top or the sides of your nursing bra
Your breasts sag or have no lift or support
Your bra straps dig into your shoulders
The back of the bra keeps riding up
You might also like: 13 Common Nursing Bra Mistakes You Make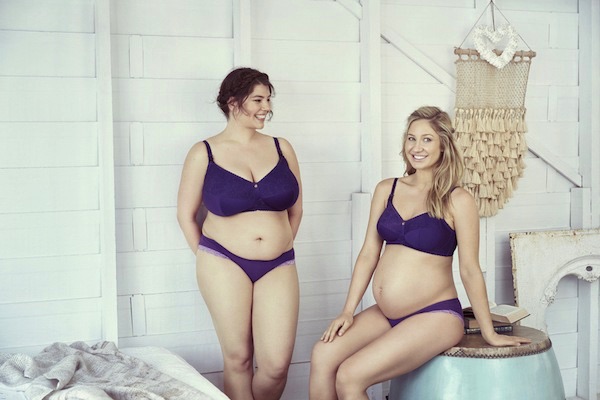 How to find the right fit?
Whether you are fuller busted or smaller busted the same rules apply when fitting a nursing bra.
Ensure your breasts are fuller encased in the bra cups. There should be no breast tissue spilling out the top or sides of the cups. When you lean forward your bust should not fall out of the cups.
The under band should fit snug and firm. When you lift your arms up the under band should not move. If the back is riding up your back then the under band is too big. The under band should not cut into your skin and should feel comfortable at all times.
The straps should feel comfortable and should not be holding all your breast weight. They should not be digging into your shoulders. Make sure you can run 2 fingers under the strap and this remains comfortable.
The back band should sit horizontally across your back and should not dig in. If purchasing a maternity bra in the second trimester, the back band should be fitted to the tightest hook. This will allow room for expansion as your rib cage continues to grow. If you are purchasing a nursing bra in the 9th month of pregnancy, ensure the back band is done up on the loosest hook. This way you can tighten the back band as you rib cage begins to contract post birth.
The bra should feel comfortable. Your breasts should be sitting perky and the bra should feel secure and snug.
When is the best time to buy a nursing bra?
It is important to invest in a good maternity or nursing bra early on. For some women it may only be a matter of a few weeks before her existing bras no longer fit.
Where can I purchase a nursing bra for my fuller bust?
Searching for supportive, comfortable and feminine maternity and nursing bras and underwear is not always easy and can be a frustrating experience to say the least.
While bra shopping in department stores can often be the preferred choice for many women, they sometimes lack the expertise, size range and provision of a personalised service. This can contribute to a frustrating experience and one that leaves many women without a correctly fitted nursing bra.
It is our advice that you visit a specialist fuller bust bra boutique. These boutiques specialise in fitting fuller bust women and will have a wide range of supportive product that will serve you well.
The women that work in these stores have many years experience and are extremely knowledgeable in relation to bra fitting & different types/ shapes of women's bodies. They understand shape, structure and the lifestyle requirements of a fuller busted woman.
You may buy a bra in store and then repurchase online for your conveyance once you are formula with your size and requirements.
Check out this handy checklist and tips on how to buy maternity and nursing bras online.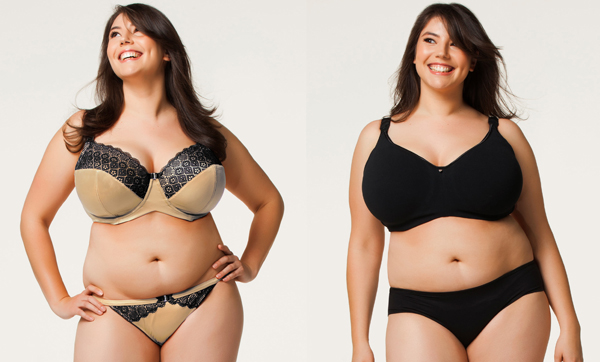 What to look for in a maternity/nursing bra for the fuller bust
If you're a woman with large breasts then you'll want to have the breast care (that was deliberate) for your bust. Sometimes it's hard to tell if a bra has these features when purchasing online, try and be a detective by knowing how to read specifications available.
Good nursing bras will provide support and comfort you desire with the functional bonus of being able to feed your baby.
Here are some things to consider when buying a nursing bra:
Strong, supportive fabrics. Single layers are a definite no-no, unless they are laminated or structured in a way that is super strong and supportive. Look for bras that have linings (cups linings, top cup linings, back linings), laminated fabrics (layers that are stuck together for added support) or extra sections within the bra that add support to your breast when being worn.
Strong straps that are easily adjustable. Narrow straps, although they may look pretty under tank tops, will not be comfortable at the end of the day (or after an hour). Opt for straps that are wide and don't have much stretch. Better still, look for a strap that is completely rigid as this will be the most comfortable on your shoulder.
Durable fabrics. Get label savvy. Care labels will have the composition of the bra on the label. Look for bras that have a high elastane or lycra/spandex (branded names of elastane) content. Anything less than 5% is a no-no.
Drop down cups for feeding. This is the time when a pull aside nursing bra is not your friend. Drop down cups that clip up and down are better structured for your needs and will keep your bust in place.
A-frame sling for discretion. These are the ones that cover the front and the sides of the bust. These will not only be more discreet and only expose your nipple for nursing, but will also keep your bust in place and offer support when the outer cup is not there. Try and find one with a folded edge against your bust to allow for growth without digging in.
Higher centre front for more coverage. You've got cleavage and want to show it off? If you want support and comfort, then opt for a higher centre front and save the cleavage busting out for date night.
Flexible wire for added support and shape. Normal bra wires are not your friends, they are hard and restrictive and are not forgiving for fluctuating breasts. Cake Lingerie has specially engineered flexible wires that are not only more flexible in 8 different directions, but also have are shaped to sit closer together on the body and wider on your chest wall to avoid any contact with the breast tissue completely.
Wide supportive back band for support. This is called cantilever design. This is when the back fabric of the bra joins to the back strap before the hook and eye. This ensures the bra is wider at the back to offer more support around the body to support the bust. Remember to look for a double layer back panel also.
Wide hook and eye closure. This will ensure that the cups are more supported and kept in place. To ensure the maximum support, there should be 5 to 6 rows of hook and eyes to allow for rib cage expansion. On well designed bras, there should also be 3 to 4 hooks on each of the these rows. I know it sounds a bit like corsetry but it actually is when you count them – that's 24 hooks on one bra.
Cotton lined cups to keep you cool and comfortable. Scratchy seams – no thanks. Cotton against your nipples: yes please.
No padding. If you are looking for something discreet to avoid nipple show through, look for a bra that is made from 'spacer' this is a breathable fancy fabric that has been laminated together with a microfilament so the two layers (inner and outer) do not actually touch each other. This forms a space between each layer and is similar appearance to a thin foam. This has the added bonus of being breathable and is perfect for t-shirt bra as well as active and sports bras.
Learn more: 9 Qualities You Should Look For In A Good Nursing Bra
What are the best nursing bras for the large bust?
Trimester 1
Invest in a good transition bra in the first trimester. Seamless bras are a popular choice and are designed for stretch and grow with your changing body.
Available in easy sizing; XS-XXL, they will fit a number of cup sizes into each size, which makes this the perfect go to bra during this time of frequent change.
TIP: Not all seamless bras are created equal. Spend some time researching the market first before investing.
A seamless bra should feel comfortable and lift and support your bust.
Paying a little extra for a quality bra is worth it, as other cheaper versions may not deliver what they are supposed to.

The Sugar Candy seamless bra has been especially designed to nurture the fuller bust and has a unique construction only found in this bra.
It is the ideal transition bra for the fuller bust. Its unique construction has been especially designed to support and provide comfort during what can be a difficult time for some.
Trimester 2
Your breasts should have stabilised by this time.
It is our recommendation that you discontinue wearing your seamless bra during the day at this time, as it will not provide you with the same levels of support that a structured bra will.
Invest in a good non-wire or flexible wire bra that is designed to fit a specific size.

Croissant maternity and nursing bra is a flexible wired bra made from a spacer fabric. The spacer fabric is a new technology in fabric that gives the wearer a smooth profile from under clothing without the bulkiness of a pad.
Croissant is the perfect T-shirt bra for pregnant and nursing women and is available in a full size range from 32C-42K (US sizing).
Visit a bra-fitting specialist and get measured. Your bra size will be considerably different and getting some professional advice will help to ensure you walk away with a bra that will fit and support you well.
TIP: You might like to use your seamless bra as a sleep bra during this time. It will help to keep your bust in place and provide good levels of support while you sleep.
Trimester 3:

Time to go back into a seamless bra at the end of the 3rd trimester, as this is when your rib cage will be at maximum extension and you will want to be your most comfortable.
After you have your baby, your milk will come in whether you breastfeed or not. There can be sudden transformations of breast size 3 days after you've delivered.
TIP: Most women will be the same size 6 weeks after they have had their baby and 8 months pregnant. So, if you are pressed for time, look for a nursing bra that fits you when you are 8 months pregnant.
For active moms, when you start exercising after giving birth, try simple postpartum exercises that will help you regain your strength. Exercise can help you recover, make you stronger and improve mood.

Zest maternity and nursing sports bra is a specially designed sports bra designed to support up to the fuller bust. Zest is suitable for medium to high impact exercise and has drop down cups for feeding.
Made from a strong supportive spacer fabric, the Zest bra will mould to your body shape providing a snug secure fit.
Don't miss: How Breast Changes During & After Pregnancy
Like this post? Follow Cake Maternity on Facebook to get the latest updates!