So, you're pregnant and your boobs suddenly undergo all these changes. You realise you're probably going to need some new bras for your new assets, but where do you even begin? If you search online you'll soon realise there's a whole new world of maternity and nursing bras out there. It can be a little overwhelming, to say the least!
You can always chat to your friends and ask them what styles worked for them, but we all know bras aren't one size fits all, or one style satisfies all. That's why we've briefly summarised some of the styles we offer at Cake, and found some reviews to help you make up your mind! So whether it's your first baby and you can't bear to give up your beautiful lacy numbers, or it's your fifth and you just love running marathons, we've got you mama.
Maternity & nursing bras for all stages, sizes, bodies and styles.
Before we jump in, let's answer the age old question — "What's the difference between a maternity bra and a nursing bra?" Well, generally maternity bras are those you wear while you're pregnant, and nursing bras are those you wear while you're breastfeeding. But in saying that, in some parts of the world nursing bras are called maternity bras, even if you wear them after you've had bub! Confusing right?!
That's why all of our bras are designed to be worn during your pregnancy, and afterwards, with the handy addition of nursing clips.
So in saying that, here's a brief run down of some of the styles we offer that are both maternity and nursing friendly.
Seamless Bras:
During the first trimester and immediately post-birth your breasts go through some pretty dramatic size fluctuations. For this reason we always recommend mamas wear seamless bras during these times. This way you'll be supported and comfortable, and you'll have plenty of room for growth.

Look for:
Double layered microfibre for extra support.
Moulded cups for increased capacity and no mono-boob.


Recommended Styles: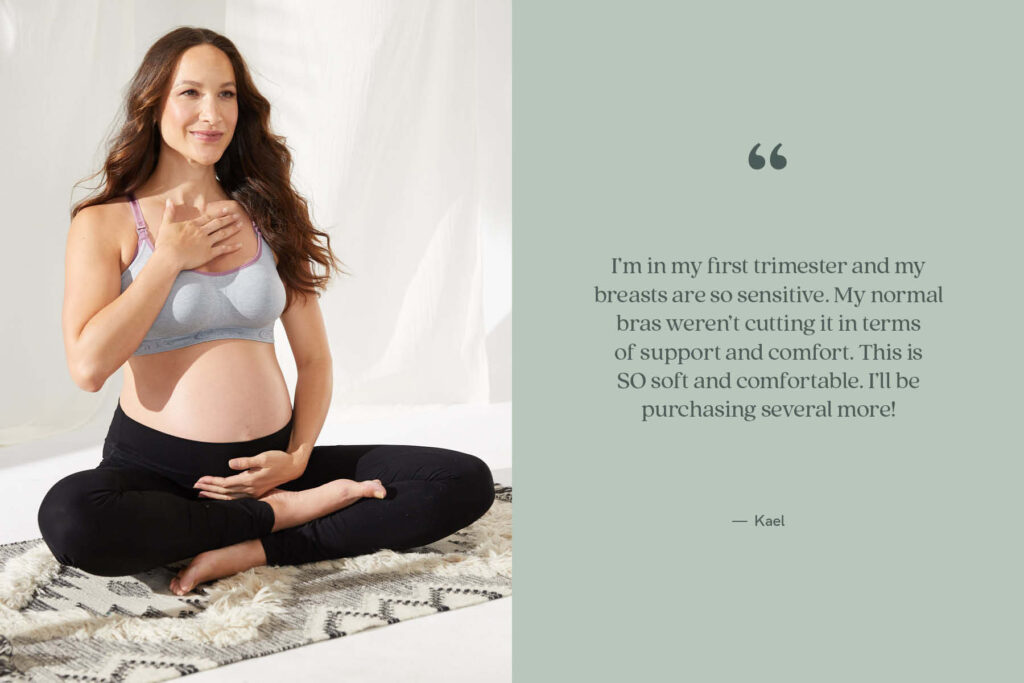 Seamlessly knitted from a dense yet super soft yarn, this nursing bra provides comfort, support and functionality without restriction. Ideal for light-medium activity such as yoga or walking, you'll never want to take this cozy bra off. The ultra-comfy stretch fabric grows with you during pregnancy and snaps back to its original shape postpartum and after each wash.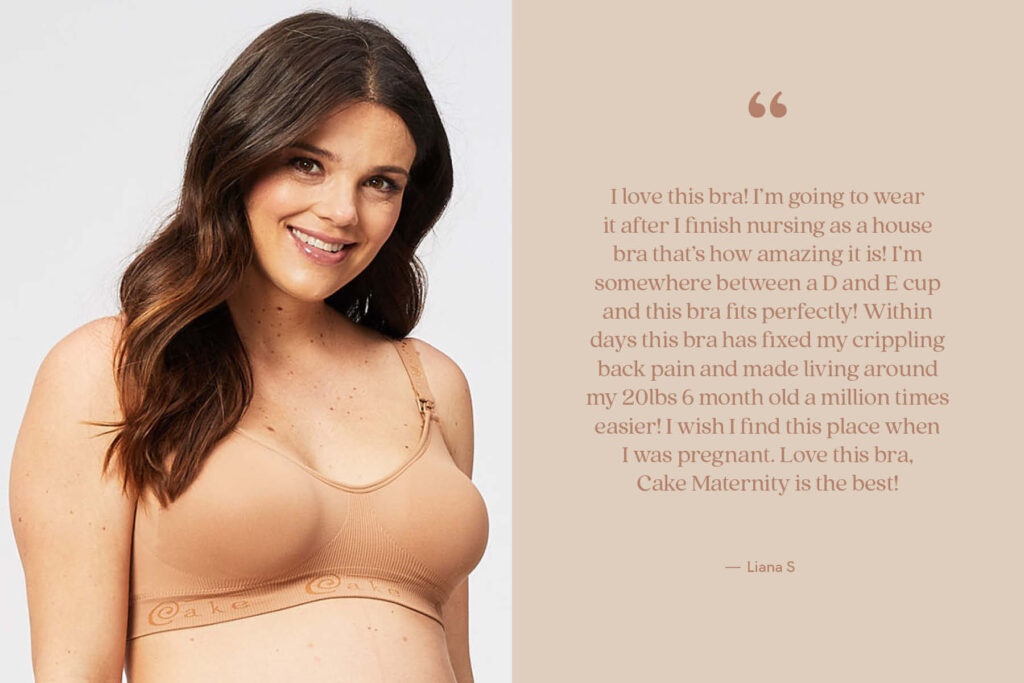 Super soft, supportive and wire-free. With its double layered knitted panels, this seamless nursing bra is designed to lift, shape and support while making nursing a breeze. It also features removable foam contour cups for shape and modesty. The ultra-comfy stretch knit fabric enables Rock Candy to grow with you during pregnancy and breastfeeding.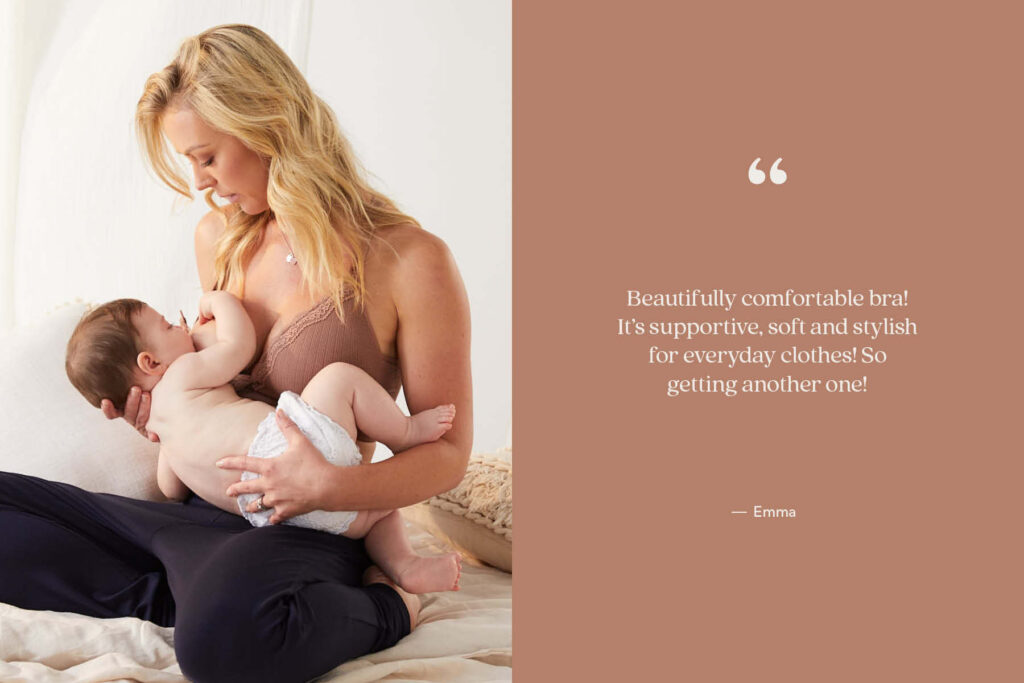 This ultra-comfy and soft bamboo viscose bra is wire-free and features a plunge neckline with delicate lace detailing, making it the perfect bra to take you from day to night and back again. It's the t-shirt bra for women who desire style, comfort, shape and support with memory foam moulded cups and a racer back design.
Flexi-wire Bras:
These are perfect if you're used to wearing wired bras and want to feel supported, shapely and feminine whilst pregnant and breastfeeding. We recommend mamas avoid wires of any kind when they're going through periods of rapid growth (first trimester and 4-6 weeks post-birth), but they're perfectly safe any other time. So whether you're looking for a t-shirt bra or something for a special occasion, here's some of our favourites.

Look for:
Wires with a wider smile, which will sit on your chest wall rather than your bust.
Supportive back band.
Rigid panel between the cups, to help keep the wires in place.
Lower cup support, so the wires aren't doing all the work.

Recommended Styles: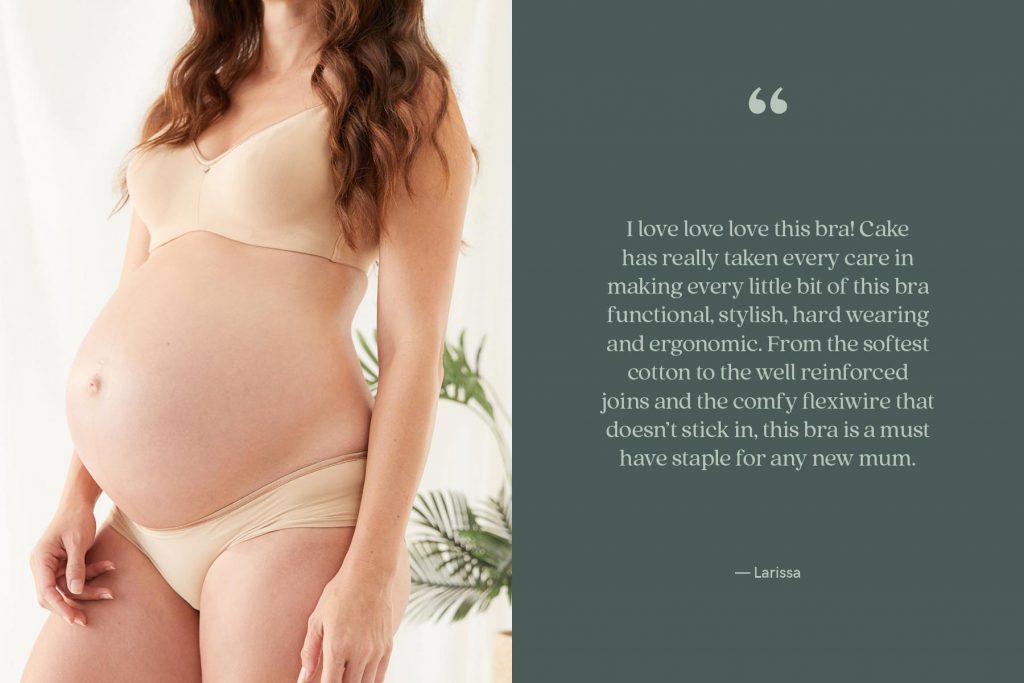 This t-shirt bra has perfectly concealed flexi-wire for a lovely tailored shape. The soft velvety outer layer and moulded spacer cups offer shape, support and comfort without the bulkiness of foam. Made from the softest fabrics you'll ever feel, Croissant will fast become your everyday nursing bra.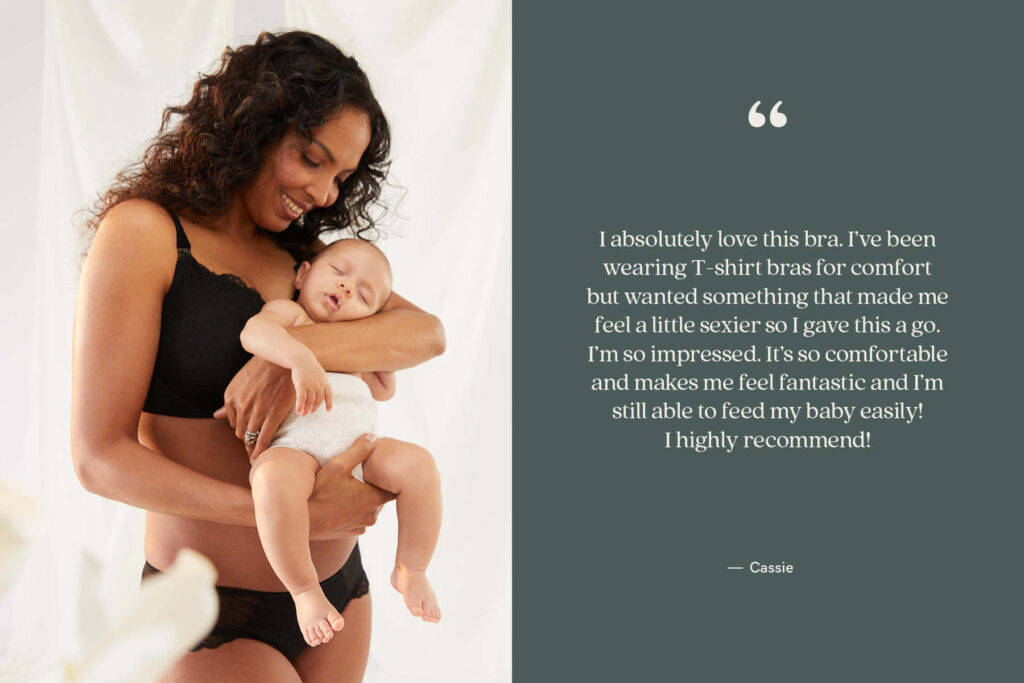 This flexi-wire nursing bra combines intricate polka dot mesh, lace trim and luxurious velvet straps, ensuring you feel like a treat whenever you put it on. The folded edge side slings provide side support for your bust without digging in. You'll not want to go back to your usual bras with the comfort, support and sexiness of TimTams.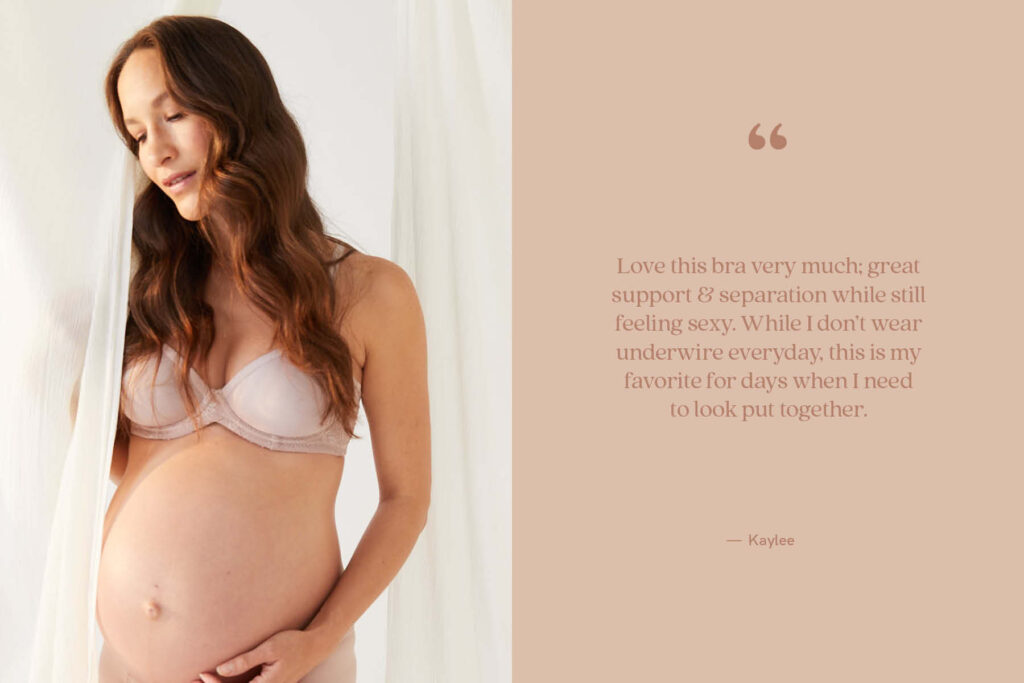 A contour flexi-wire nursing bra that oozes femininity, sophistication and functionality. Its versatile design offers shape and support, with a pretty polka dot printed A-frame sling, spacer moulded contour cups and lacey back wing. The additional J-hook means your satin shoulder straps can be worn as a racer back.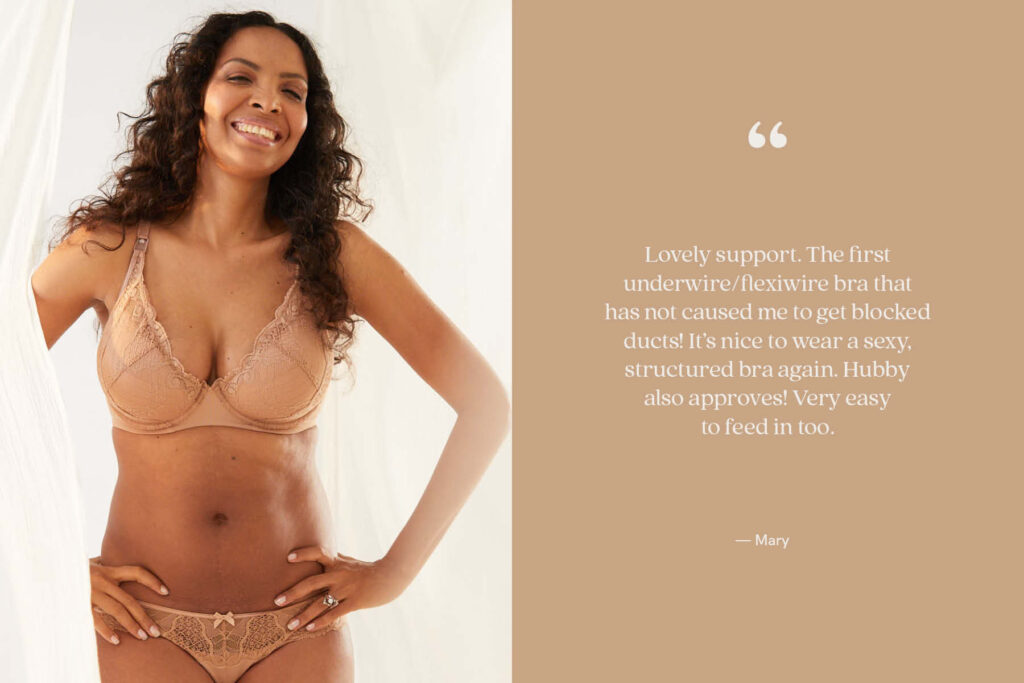 For the ultimate treat, you can't beat truffles. Stunning, French-inspired deco lace and a deep plunge cut combine to make the sexiest lace nursing bra you'll ever indulge in. The folded edge nursing sling also supports your bust and the demi-cup foam contour cups shape your decolletage whilst the lace outer cups follow the plunging neckline and allow for milk fluctuations.
Non-wired Wonders:
If you don't like wearing wires (who could blame you?!) and would still like the support, then opt for one of these.

Look for:
3 or 4 piece cup construction.
Double back wing for added support.
Wide straps for weight displacement.

Recommended Styles:
This sweet little plunge nursing bra is ideal for the smaller busted mamas who want shape and support, without the wire. It's just like a bralette with a little more padded coverage. The cups are cotton lined and moulded with no irritating seams. Its soft polka dot mesh, decadent colours and stretch satin back make this is the perfect bra for mamas and mamas-to-be.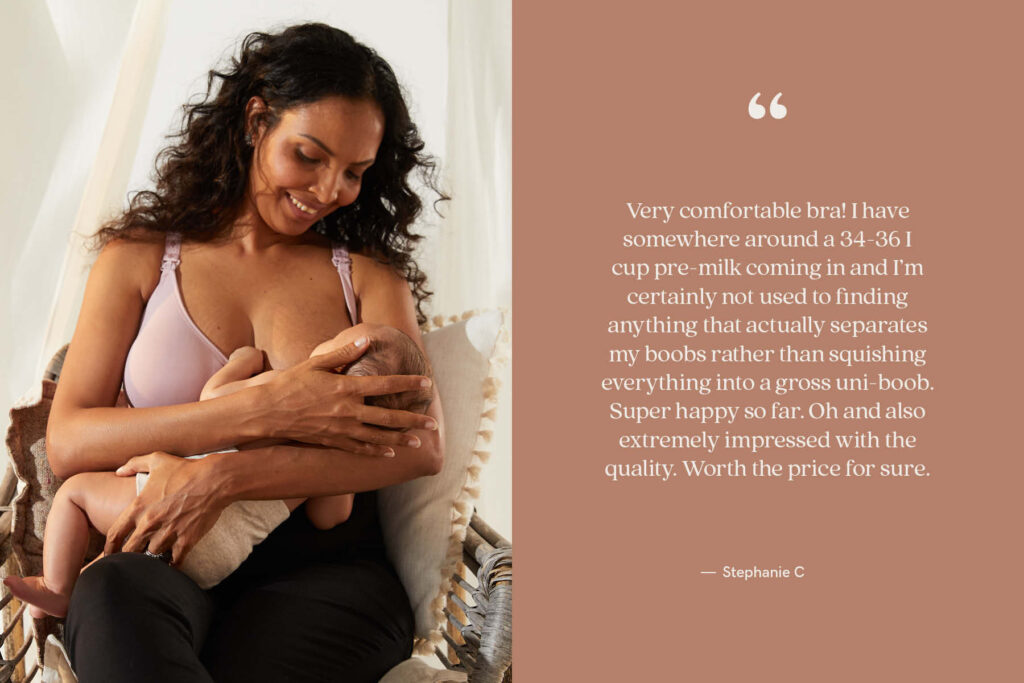 Popping Candy Nursing Bralette
A seamless wonder for the fuller busted mamas out there. It offers incredible wireless support, is comfortable and super clever. It feels like a second skin while offering lift and separation. It's a super technical bra with lots of action going on that you can't see, such as heat moulded cups, side slings, platform slings, added elastics, moisture wicking fabric and wire mimicking panels. Needless to say this one could be your secret weapon when it comes to the comfort battle for your fuller bust.
Functional Bras:
Whether you're sporty, sleepy or pumping, we've got you covered.

In an active bra, look for:
Racer back option for free arm movement.
Breathable fabrics such as spacer that allow air flow and have moisture-wicking technology.
Side support panels for restricted outwards movement.
High centre front to help with upward bounce.
Wide straps to displace pressure on shoulders.
Wide back panel for added support.

In a sleep bra, look for:
Wide and supportive back panel to keep your straps in place.
Easy pull aside access.
Nursing pad pockets.

In a pumping bra, look for:
Easy flange attachment system.
Double layers for extra support and comfort.
Nursing functionality.
Contemporary styling so you can wear it all day.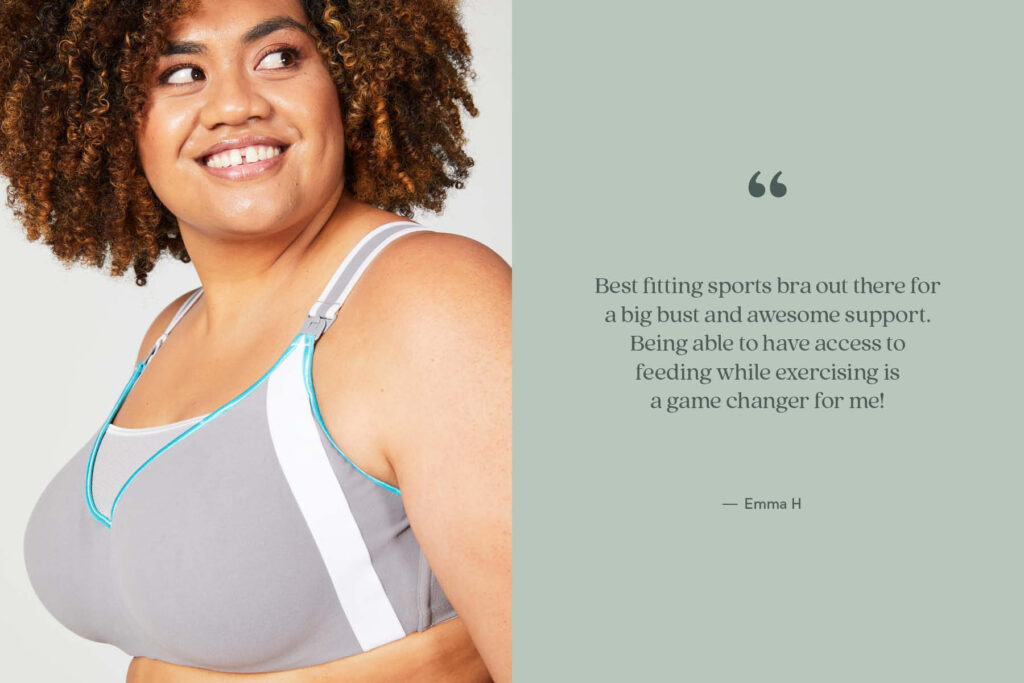 Add a little zing to your workout with this sporty, high impact flexi-wire nursing bra. Zest has full coverage cups, comfy cotton lined A-frame slings and easy-feed clips, so you can feed bub on the move, while your breasts stay in place. Its flexi-wire design offers support, lift and shape while the extended band provides 5 hook and eye options, offering you room to grow, expanding or contracting up to half a size.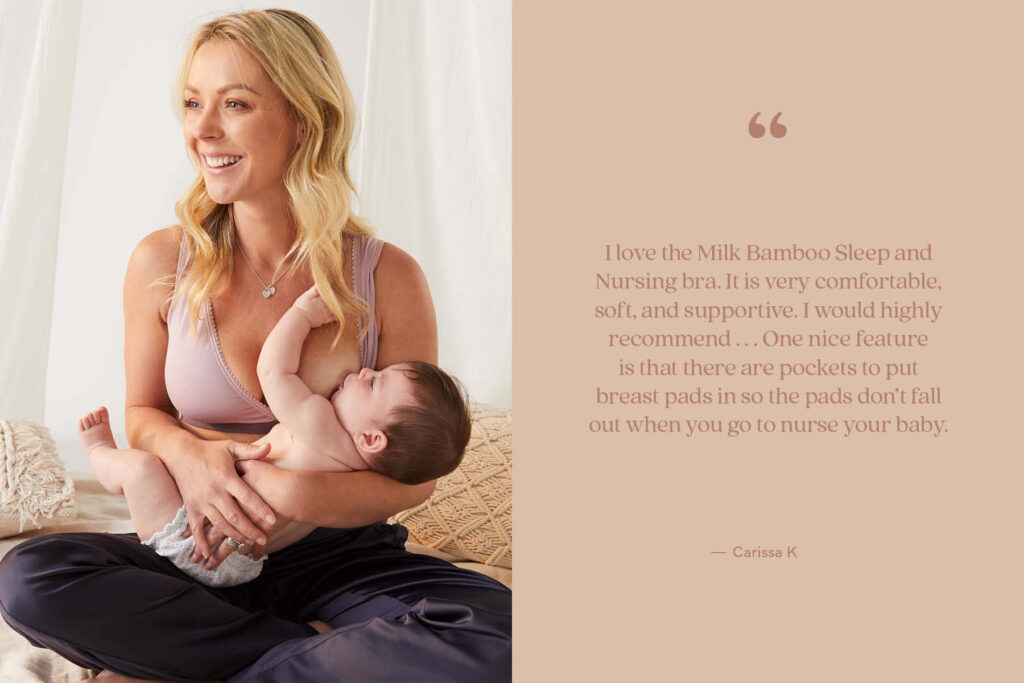 Milk is made from a super soft, sustainable bamboo to keep you dry and comfortable all night long. Our clever cross over cups can easily be pulled aside for feeding when barely awake or half-asleep. Silky soft, moisture wicking cups will keep you comfortable and concealed pockets for breast pad inserts ensure you and your bed stay dry all night long, as the nursing pads stay in place when you need them most. The unique reinforced racer back panel with powermesh adds extra support and ensures Milk stays put no matter how restless your night is.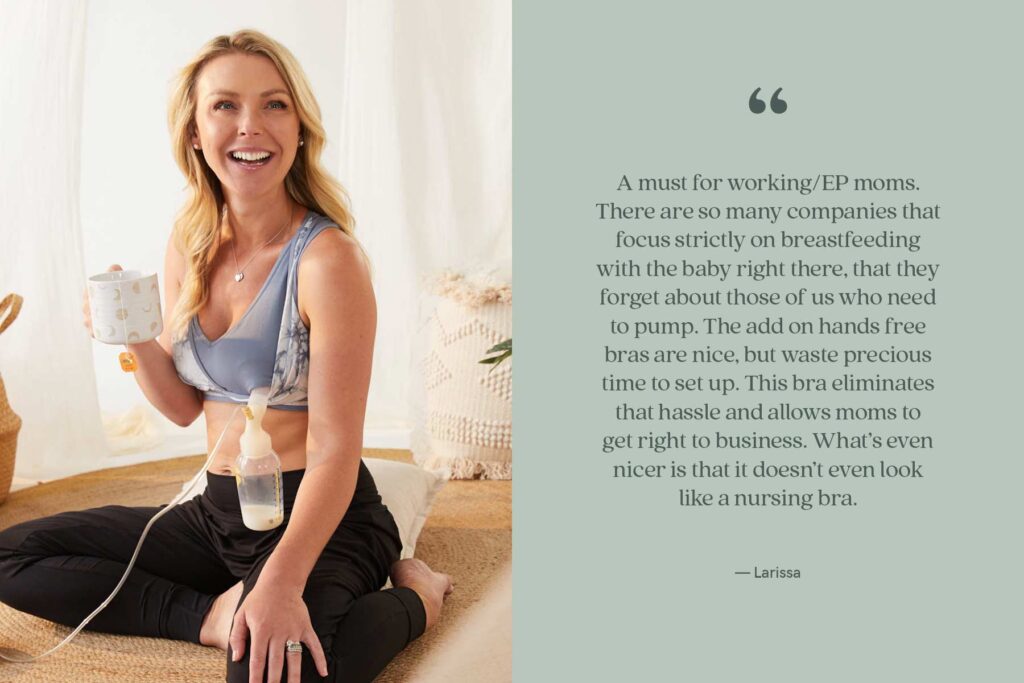 The perfect bra for busy multi-tasking mamas. With its pull aside cups for easy nursing and hands-free pumping, Lotus is as versatile as it is supportive. Perfect for yoga, pilates or any low-medium form of exercise, lounging around the house or if you simply just love wearing activewear (that counts as active right?). Whatever your reason, Lotus is that go-to bra due to its multi-purpose use. Perfect for hands-free pumping as it's designed to support the bottle as it fills, because we know as a mum, you need an extra set of hands. Well, now, you get your own back!
Fuller Bust:
If you are of the fuller busted nature before you get pregnant, then you'll need some more support. Check out our wide range of fuller bust nursing bras.
Recommended Styles: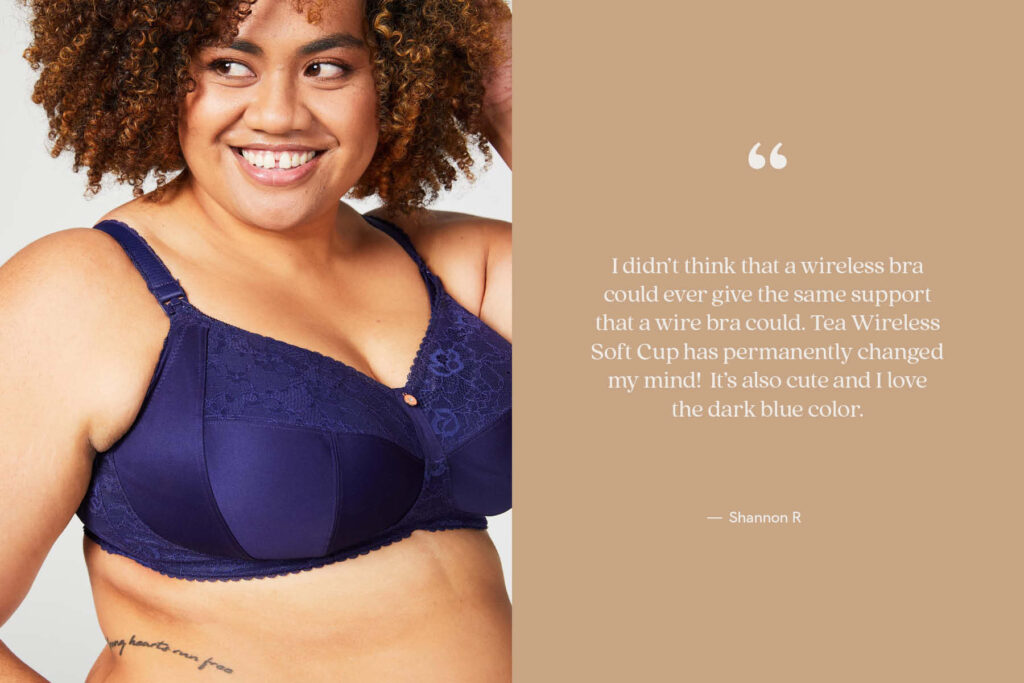 Tea is a wire-free wonder and super supportive bra for the fuller busted mama. Tea's lightness and strength is thanks to single layered German engineered fabric. It features an A-frame nursing sling and a platform sling to hold the bust's weight whilst providing a give in the upper cup for fluctuations.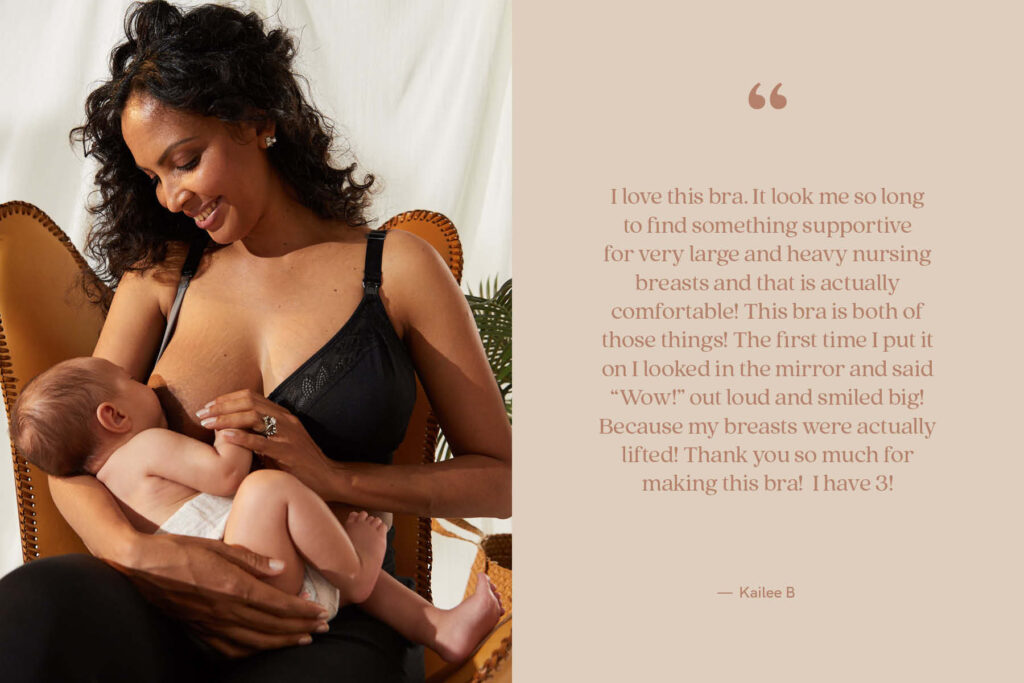 This nursing bralette has it all covered (and supported too), incredibly soft, a little bit lacy and a whole lot functional. Breastfeeding never looked so sophisticated. The J-hook means you can add additional support or wear it under your fave tops!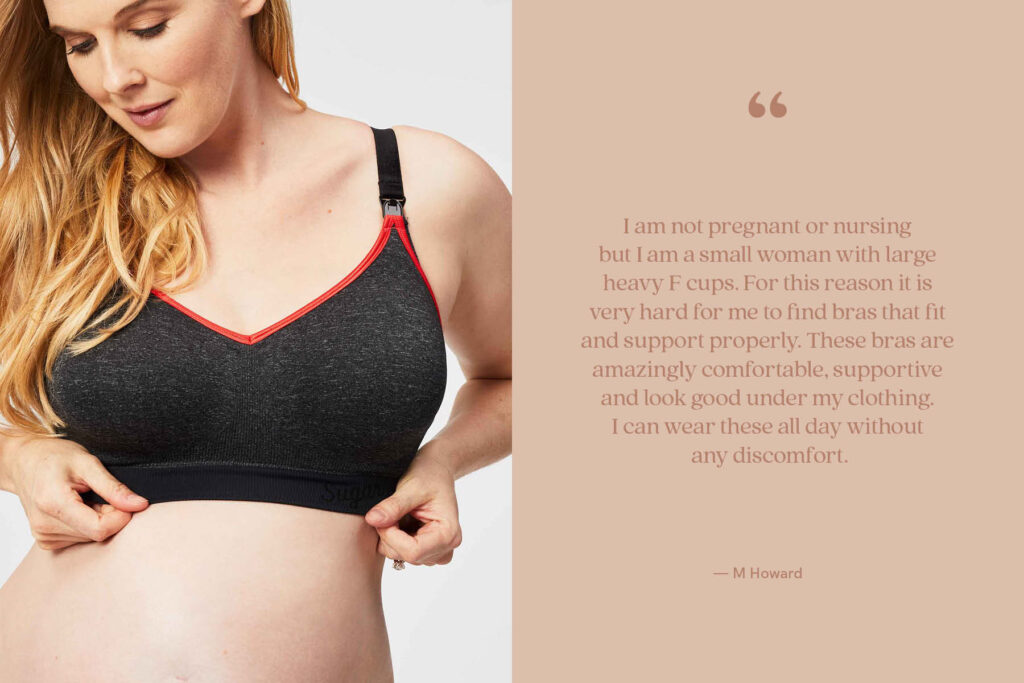 Our best selling seamless nursing bra for the fuller bust is now available in retro inspired colours with a fun contrasting trim! With the same patent pending technology and use of highly engineered constructive support panels, heat moulded cups and concealed elastic underband, Crush will be the perfect addition to your lingerie drawer.
Whatever your style, favourite colour, size or stage, we've got you covered.
LIKE WHAT YOU READ?
Join CakeMama Club & get 10% OFF your first order!
Plus you'll get tips + tricks for pregnancy, postpartum & breastfeeding, get member-only offers, earn CakeCoins every time you shop + more. Learn more