Bra shopping can be overwhelming at the best of times, but when people start throwing around terms like balconette, alpha sizing and gore it goes from complicated to virtually impossible! That's why we've broken down all the bra terms we could think of, into one easy peasy blog post. Keep on reading to get educated, mama!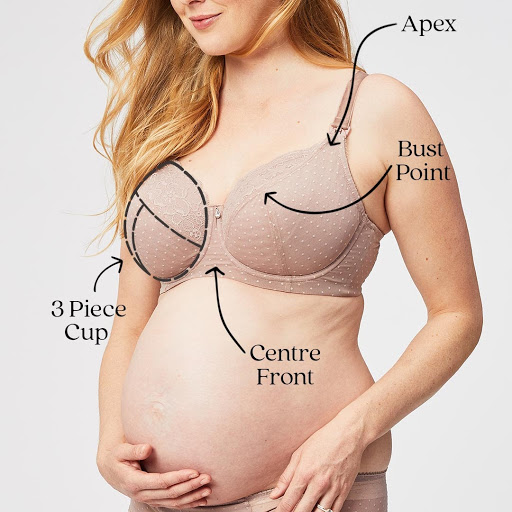 ¾ cup: Where the bust is only ¾ covered by the bra cup. Also referred to as a demi cup.

3 piece cup: A cut and sewn bra cup usually consisting of two lower pieces and one upper piece to achieve greater support and curve. For example, TimTams.

4 piece cup: A cut and sewn bra cup consisting usually 2 lower pieces, one upper piece and one side support piece, like in Tea. Provides even greater support than a 3 piece cup.

A-frame sling: In the shape of the letter 'A' over the bust. Usually joined to a shoulder strap with a maternity clip, allowing the cup to drop down and the bust to still be supported from the front and side. A-frame slings are also great for extra modesty while nursing as it doesn't expose the entire breast.

Alpha sizing: Small, Medium, Large, etc. These usually fit a number of different cup sizes.

Apex: Where the shoulder strap joins the bra cup.

Backless: A bra that has a low back or is only cups that attach to the front.

Back wing: The section of the bra that joins the back together.

Balconnet/balcony/balconette: When the shape of the bra is higher at the centre front and wider at the apexes, this forms a straight across shape.

Bamboo: A hardy plant that's fast growing and doesn't usually require fertiliser. It is derived to form fabrics viscose and rayon.

Bandeau: A strapless bra, top or garment. Can be a tube or seamless.

Bartack: A series of close zigzag stitches to reinforce or attach a certain part of a garment such as shoulder strap attachment or the end of a channel to keep the wire in.

Bra: A garment that supports your breasts.

Bralette: A soft cup bra that is usually wire-free. Generally less supportive than a bra, but not always.

Binding: A type of elastic that folds over on either side of a raw edge to finish it. Can be stretchy or rigid.

Bone/boning: Either metal or plastic, flexible or very rigid. Usually used on the side panels of bras and throughout the body of corsets.

Breast pads: Usually for collecting milk leaks when breastfeeding. These can be reusable or disposable and are inserted into your bra, directly against your breast.

Bust apex/bust point: The most prominent point of the moulded cup or overbust seam. Basically where your nipple should sit in a bra.

Bustier: A garment that is usually strapless. It supports your breasts and finishes longer on the body, just above the belly button.

Cantilever: A way of anchoring the shoulder straps to the back of the bra with an extra section of shoulder strap, lace or fabric.

Centre front/gore: The section of fabric between both bra cups.

Channel: The tube of fabric that is used for placement of the underwire or boning.

Cincher: A piece of corsetry underwear that starts below the bust and finishes either on the waist or hips. These can be shaping or fashion pieces to shape or cinch the waist.

Contour: A padded bra made with either moulded foam or spacer cups.

Control: Garments that have high powered fabrics with a lot of elastane. Control garments can change the appearance or shape of your body when being worn.

Convertible: A bra where the straps go to either cross over, halter or strapless.

Cookies: The padded push up section of a bra. These can be removable or stay-in-place.

Corset: A garment that is usually strapless with long boning to support your breast and finishing longer on the body, usually over the hip.

Cotton: A natural fibre that is almost pure cellulose. It's a fluffy, staple fibre that grows in a boll around the seeds of the cotton plants. Cotton fabric is highly absorbent and also comfortable to wear. It can be knitted, blended or woven to form different types of fabric.
Coverstitch: A twin needle or triple needle is used with a looping thread between them to either cover an existing seam to make it flat, or to form a seam. When forming a seam, the allowance of each piece is overlapped to make it flat. These are more common in sportswear.

Cross straps: When your straps are able to be crossed over at the back. Can be adjustable or fixed in place.

Demi cup: Also referred to as a ¾ cup bra. Where the bust is only ¾ covered by the bra cup.

Denier: Denier is a unit of measurement and refers to one gram of mass per 9000 metres of length. Denier is abbreviated as 'd'. A single strand of silk is approximately 1 denier, whereas a pair of opaque leggings are approx 120d.
Elastane: A manmade long chain polymer that is super stretchy. This yarn is blended with others such as nylon, cotton, rayon and polyester and allows them to have stretch and recovery ability. The higher the elastane percentage, the stronger the stretch.

Elastic: A highly stretchy knitted piece of fabric used on bra underarm edges, underbands, etc.

Embroidery: A type of lace or fabric that is made from stitching on top of mesh or fabric.

Eyelash: When the edge of the lace is not looped back on itself but has thread ends showing. These can be long or short. Eyelash laces can be any type of lace — they can be galloon or single edged.

Fibre: A filament from which a thread or yarn is formed.

Flexi-wire: An super flexible underwire that is inserted into the channels at the base of the cups.

Foam cup: The padding in a bra that gives it shape. This can be moulded or cut and sewn.

Frameless: A bra that doesn't have any frame below the cups. The wire channels form the underband section in this case.

Front close bra: Bras that have their openings on the front.

Full cup: When the cup covers the majority of your breast. Often preferred by fuller bust women.

Galloon: When referring to lace, it is either galloon (narrow with an edge) or allover (wide like fabric). Galloon refers to the narrow knitted lace that can be between 1cm and 25cm wide. Each of the galloon edges is finished and does not require hemming. This is the galloon edge or sometimes refers to the scallop edge if it has curves on it.
Grain: The direction of fabric from left to right (this is called the weft). When using rigid yarns, this is the strongest. When using elastane (lycra/spandex) yarns, this is the stretchiest.
Guipure: A type of embroidery where the base is dissolved after stitching leaving only the transparent pattern.
Halter: A strap that joins behind your neck.
Half cup: A style of bra where only the nipples are just covered by the cup.
Hemp: A plant derived to form different fabrics. It is durable, hard wearing, very absorbent and easy to produce, harvest and manufacture.

High impact: Exercises/sports that cause a great deal of stress on the body, and subsequent boob jiggling.
Hook and eye: A small metal hook and loop used together as a fastener on a bra.
Insert pads: When a contour pad can be inserted or removed depending on the wearer's preference.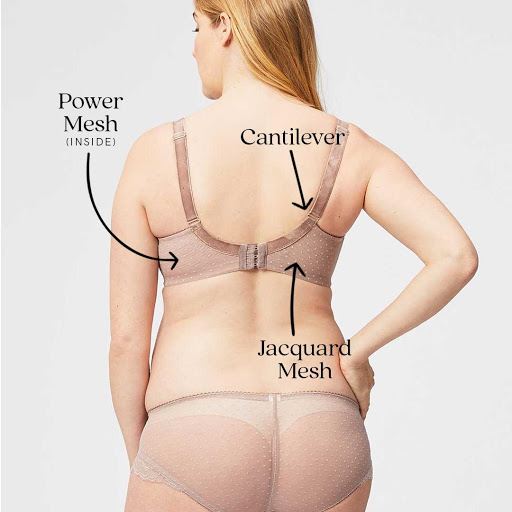 Jacquard: A type of fabric that is woven or knitted with reverse needle points to form a raised pattern or texture.

J-hook: A hook that converts the straps of a regular bra to racerback.

Knit: A method to form a type of fabric using a single yarn.

Lace: Knitted on a loom, lace is a type of fabric with intricate patterns. The length, width, and thinness may vary depending on the loom used.

Laminated: When 2 or more fabrics are glued together. There are different rigidities of the glues to form a stiff or malleable end fabric.

Leavers: An original french method of knitting lace. This can have an eyelash finish or the threads can be looped back on themselves on the finished edge. This is the most expensive type of lace as these particular knitting machines are becoming less popular, as they are being replaced with Textronic or Raschel laces.

Light impact: Exercises that place minimum strain on the body and cause little to no bounce, such as yoga or weight lifting.

Lined cups: When a bra has an additional layer on the inside of the cups.

Lycra: A trademarked elastic polyurethane fibre or fabric.

Maternity bra: Bras that are safe to wear during your pregnancy. They often come with nursing clips so they can be used postpartum as well.

Marquisette: A rigid, lightweight fabric used to reinforce parts of bras that need to be strong such as centre front and side wing.

Medium impact: Activities that cause a medium amount of strain and bounce, such as fast walking, swimming or housework.

Mesh: A fabric that usually has some elastane content and is sheer or semi-sheer. This is achieved by its open knit/weave.

Microfibre: Yarns that are finer than a single thread of silk. Since they're so thin they feel super luxurious when woven together. They're also hardwearing and strong.

Minimiser: A type of bra that minimises the projection of the bust by spreading flatter and using wide wires.

Modulus: Refers to the strength of the elasticity of the fabric and its behaviour after strain. The higher the modulus, the stronger the fabric.

Moisture wicking: Fabric that transfers moisture (usually sweat) from the inner layer to the outer layer where it dries more easily.

Monoboob: When your boobs are pushed together and there is no separation.

Motif: The decoration applied to a bra or brief. This can be embroidery, a pendant, a bow or anything in between.

Moulding: When a fabric or foam is heated and pressed into shape with a top plate and lower plate. When foam cups are moulded, they are called contour cups. Fabric moulds are called moulded cups.

Nilit: A brand name for Nylon 6.6 yarn.

Nursing bra: A bra that has the capability of nursing, with either a drop down or pull aside cup.

Nylon: Nylon is a type of yarn that is made from synthetic polymers, which can be blended with other types of yarns (usually elastane), then knitted or woven to form fabric.

Opacity: Opacity refers to how much of the body can be seen through the garment.

Padded: Padded bras have lining in the cups. Graduated padding is thicker at the base of the cups and creates a natural looking silhouette as well as the appearance of increased cleavage. Padded petite nursing bras are a good choice for women with smaller busts because they enhance the size and definition of the breasts.

Picot: The little loopy edge that is sometimes present as decoration on an elastic or shoulder strap edge.

Pilling: When small balls of fluff form on the top layer of fabric.

Platform sling: A section of fabric that supports the bust from the lower edge.

Plunge: A style of bra that's lower at the centre front.

Polyester: Can refer to the fabric or the yarn. The yarn is made from man-made polymers. These are very resilient and strong and need a high temperature to dye.

Powernet: A strong knitted mesh with high recovery even after long periods of wear. Often with high lycra content and can be blended with nylon, polyester, cotton or viscose.

Pumping: Bras that you can use with a breast pump, either hands-free or handheld.

Push up: A type of bra that usually uses padded or contour cookie cups to lift up the bust and close set wires to push the breasts together.

Racer back: When the straps of a bra are joined or meet in the centre of the back.

Raschel lace: The cheapest type of lace as it's made on a similar machine to a jacquard fabric machine except the base is netted instead of satin or polyester.

Rayon: A fabric made from cellulose, wood pulp or cotton.

Ruching: When the fabric is gathered together to form soft folds.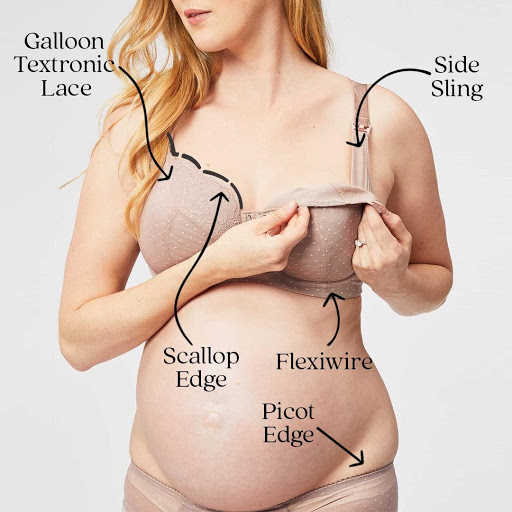 Scallop: A decorative edge made with galloon lace.

Seamless: Made on a seamless machine from a number of yarns (much like a sock). There is minimal waste with this type of production.

Side sling: An additional piece of fabric that joins from the shoulder strap to the base or side of the cup, supporting the side of the bust. These can be joined to a shoulder strap with a maternity clip, allowing the cup to drop down.

Side wing: The section of fabric on the outer side of each bra cup.

Sister sizing: When you go up a cup and down a band size (or vice versa) from your normal size. This can work for up to two jumps, but isn't recommended for any more as the band will become too restrictive or too loose.

Sleep bra: A bra that is usually wire free and has a racer back design so that it is comfortable to sleep in. Sometimes these can be front fastening or without the back closure.

Slider: A looped piece of metal or plastic used to adjust the length of a strap.

Soft cup: Refers to a bra or a bralette that doesn't have underwires. Although they're often thought to be less supportive, other mechanisms such as inner slings can provide very high levels of support.

Spacer: A clever fabric that has two layers of fabric (can be the same or different kinds) that are suspended from each other with a filament or multifilament yarn separating them slightly forming an air gap.

Sports bra: A bra that provides support for women's breasts during different kinds of physical activity.

Strapless: A bra that doesn't have any straps.

Sweetheart: A shape of neckline finish that is curved and follows the shape of the bust.

Tank: A close-fitting sleeveless top.
Textronic lace: A modernised and industrialised version of knitted lace. This lace is usually with lycra and slightly 3 dimensional to give a 'textured' appearance. The majority of lace produced for lingerie is textronic lace.

Thread: Made from twisted yarns and used to sew garments together, usually a polyester/cotton blend.

Top cup stretch: The top cup of a bra is the upper most part of the cup. When breastfeeding or nursing there is top cup stretch allowance for milk fluctuations. This is achieved through elastication or a bias cut.

T-shirt bra: A moulded or contour bra that can be worn every day and doesn't show through a shirt.

Twin needle: A method of stitching where two needles are set at certain widths apart with a joining thread on the underside that allows stretch.

Tube: Usually a seamless, strapless garment.

Underband: The section of fabric on a bra that goes underneath the cups and all the way around the body. This provides 80% of a bra's support.

Underwire: The wire that is inserted into the channels at the base of each cup. These can be plunge, balconnet or an everyday shape. There are also mono-wires and half-underwires but these are less common.

Viscose: A man-made fibre from wood or bamboo pulp.

Yarn: Yarn is formed from fibres or polymers (whether synthetic or natural) and is what is knitted or woven to form fabric.

Zigzag: A method of stitching where a single thread is used across a certain width. Usually used where stretch is required such as underband elastic.
So, there's a quick rundown of the basics. I could go on, but I'm sure this would either bore you or break the internet with enthusiasts. Hopefully you're now well equipped to know what's what on sites when they refer to contour, half-cup and viscose and you're more aware of what you're purchasing. The more knowledge we can get out there, the better.
LIKE WHAT YOU READ?
Join CakeMama Club & get 10% OFF your first order!
Plus you'll get tips + tricks for pregnancy, postpartum & breastfeeding, get member-only offers, earn CakeCoins every time you shop + more. Learn more