When you first find out you're pregnant, your whole life suddenly becomes about the life growing inside of you. You notice the changes happening to your body, but you're not exactly sure what to do to support them.
One of the most notable, and earliest, changes that occurs is breast growth. If this is your first baby, you'd be forgiven for wondering when to buy nursing bras, or even, what IS a nursing bra?

That's why we're breaking down all the ins and outs of buying nursing bras today, so you can put all your energy and focus into your growing child, rather than your growing breasts.
Why do I need a nursing bra?
Now, technically you don't need a nursing bra like your baby needs nappies, but they'll make life a lot easier and are considerably more comfortable than a regular bra. More on this later.
A supportive nursing bra is also extremely beneficial for your breast health. They can help avoid ligament damage, milk duct damage, and can improve the comfort of your back and shoulders through corrected posture.
When is the best time to buy nursing bras?
If you're planning on breastfeeding, we recommend you pick up a nursing bra around the 8th month of pregnancy. This is because your cup size will be approximately the same as it will be when your milk supply has regulated. Bear in mind your ribcage will contract postpartum, so you should always fit a bra on the loosest hook if you're buying at this stage.
What's the difference between maternity/nursing bras and everyday bras?
At first glance, the most obvious difference between a nursing bra and an everyday bra is breastfeeding access, be that via a drop down or pull aside cup. There are, however, a lot more subtle differences, the presence of which also determine the quality of a nursing bra.
| | |
| --- | --- |
| A Quality Nursing Bra | An Everyday Bra |
| Supportive lower cup and flexible upper cup for fluctuations | Sturdy cups with minimal stretch for shape |
| Soft flexible wires or no wires to shape and support the bust | Strong wires to push and hold the bust |
| Folded edge side sling or A frame sling to hold bust in place when nursing | No slings |
| Nursing clips for breast access | No nursing access |
| Linings and seams are soft and invisible against the nipple | Possible hard/scratchy seams over the nipple |
| 6 hooks and eyes for ribcage expansion and contraction | Usually only 3 hooks and eyes |
| Straps are wide and sturdy | Straps can be thin and stretchy |
| Double layered | Usually single layered |
| Durable and able to be worn for 24 hours a day | Can become uncomfortable and only meant for 8 hours wear a day |
What changes do my breasts go through when pregnant?
Some people only clue into the fact that they're pregnant because their breasts are feeling tender – these changes, as well as many others, that your breasts go through is why maternity bras were designed to be so comfortable and luxurious.
As soon as you become pregnant your body produces hormones to nurture your baby and begin the milk production process. Your breasts are gearing up for breast feeding from the point of conception which is why you may experience the following:
Tenderness.
Swelling.
Nipple sensitivity.
Weight sensitivity (painful with a slight jiggle).
Growth.
Visible blue veins due to greater blood flow.
Hot to touch.
Change in areola colour, size, and new bumps.
Nipple discharge or colostrum.
Breast lumps or knotty breast tissue.
Nipple enlargement and/or erectness.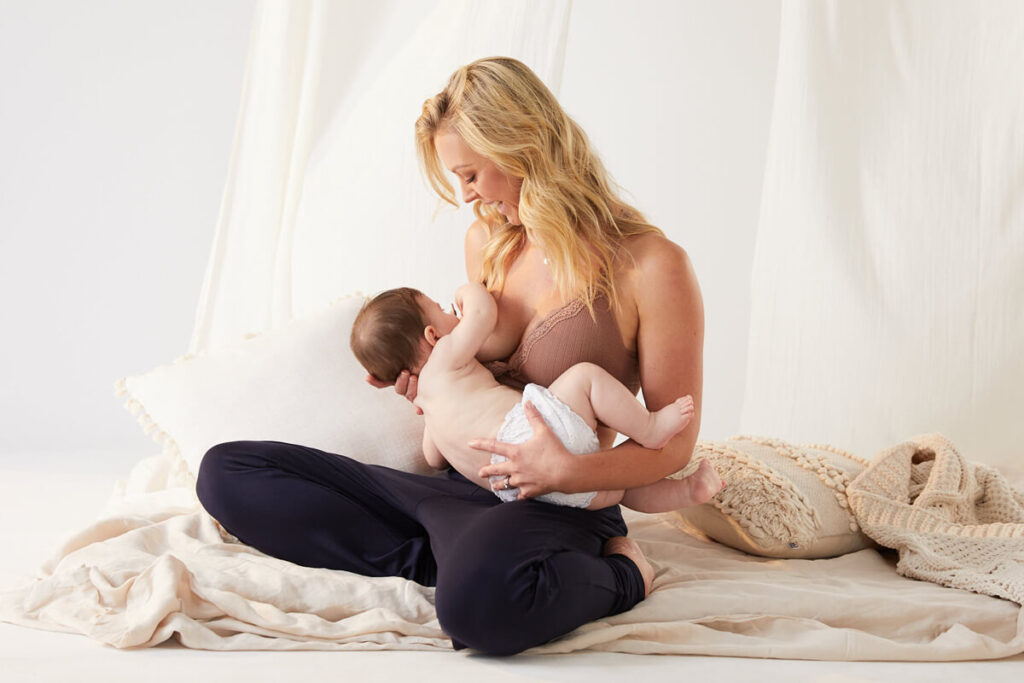 What changes do my breasts go through when breastfeeding?
The tissue in your breasts becomes denser/thicker.
The fatty tissue and the connective tissue may form different bonds, resulting in a lumpy feeling.
Engorgement may occur — this is when your milk ducts are making more milk than is being consumed. This can be painful, and your skin can stretch quickly to accommodate the extra capacity.
When breastfeeding, prolactin and oxytocin are released when your baby feeds. Prolactin signals the alveoli to begin making milk and the oxytocin signals the alveoli to expel the milk through the milk ducts.
Breast size will usually increase.
Breasts will be heavier by about 33% compared to a non-breastfeeding breast of the same size.
Nipple elongation occurs as they are designed to sit at the back of your baby's mouth.
Areola may increase in size.
Nipples may darken or lighten.
You might also like: How Breast Changes During & After Pregnancy
What should I look for when buying a nursing bra?
This depends on what your needs are in terms of size, function, stage of nursing and personal taste.

Size
No matter your size, you'll want to have a supportive nursing bra due to your breasts being heavier and needing more care and comfort (and access). If you are already a larger size, then look for something that has the following:

Double layer.
Supportive lower cup.
Top-cup stretch or give to allow for fluctuations.
Wide straps.
Supportive back band.
Soft and breathable fabrics.
Inverted or concealed seams over the nipple.
Check out our Shop by Bra Size page and find nursing bras we currently have in your size.
Function
Aside from the obvious need for breastfeeding functionality, your daily activities can determine the style of bra you need. Some examples include:

Sleeping
Pumping
Jogging
Sexy date night
Discreet t-shirt bra
Lounge around the house bra
Plunging neckline
Stage
1. 0-3 Months Pregnant
During this stage we recommend not wearing a wire, but opting for something seamless that is comfortable and will move and grow with you, whilst still offering support for your quickly changing breasts.
2. 3-9 Months Pregnant
Your size is more stabilized and therefore wearing a flexible wire is okay.
Tip: If you're being fitted towards the end of your pregnancy, remember that your ribcage will decrease after you've had your baby. So, you can go down a band size and up a cup size (sister sizing) to ensure your bra will fit you better for longer.
We'd recommend: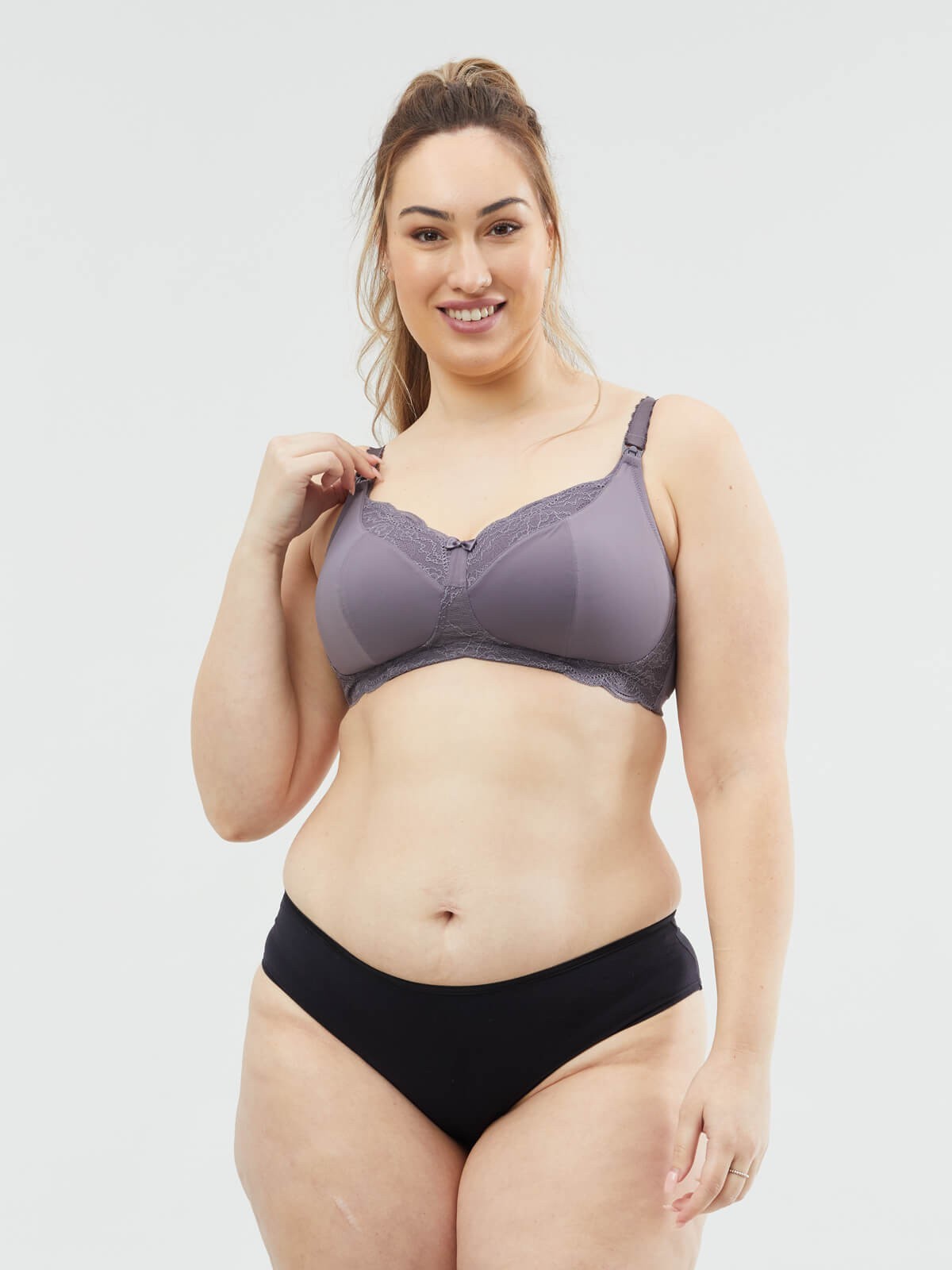 Cake Maternity
3. 0-6 Weeks Postpartum
Once again, the seamless bra is what we recommend for this stage. The increase in cup size can be quite dramatic and the need for comfort is far greater than your first trimester.
During this time your breasts will be going through major fluctuations and possible engorgement (here's hoping not!), and your baby will need to access them around 9 times per day.
For these reasons, a supportive seamless bra is perfect for this stage as it's designed with the following features:
Silky soft double layers, seamless design offering wire-free support.
Easy feed drop-down cups.
Ability to fit multiple cup sizes to support and fit you whether you've just fed or not.
Inner side sling with knitted contour support panels.
6 hook and eyes for ribcage expansion and contraction.
Zero itchy garment tags.
Heat-moulded cups for breast capacity (non-flattening).
4. 6+ Weeks Postpartum
Your milk flow should be more regular by now and your bra size therefore stabilized. For this reason, you can go into a well-designed flexible wired bra as they have the following:
Stretchy top cup to allow for ongoing fluctuations.
Flexible wires that flex in 4 directions.
Graduated strength (as the size of the bra increases) for support, lift and shape.
Easy-feed drop down cups with cotton lined side sling.
6 hook and eyes for ribcage expansion and contraction.
We'd recommend: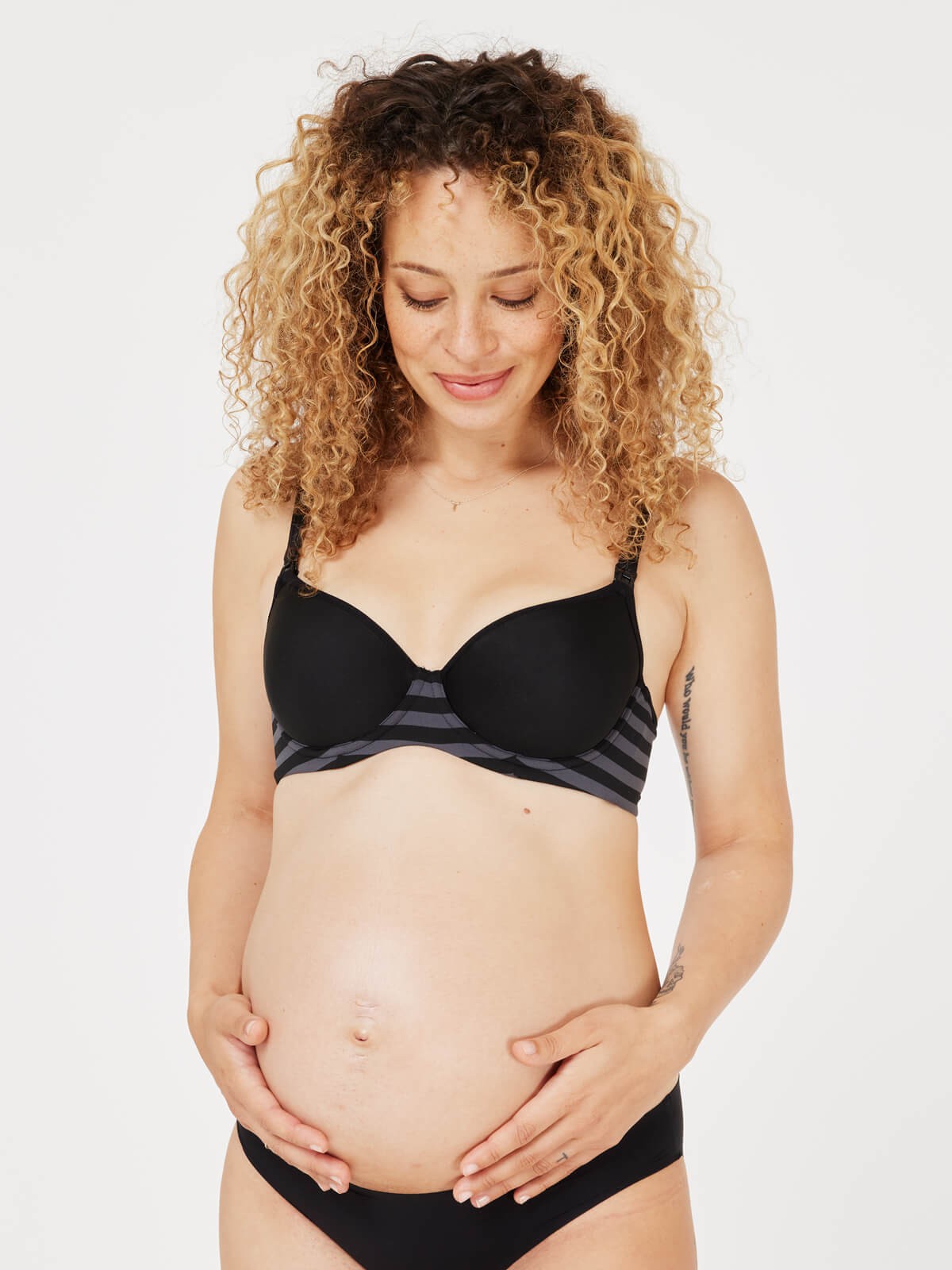 Cake Maternity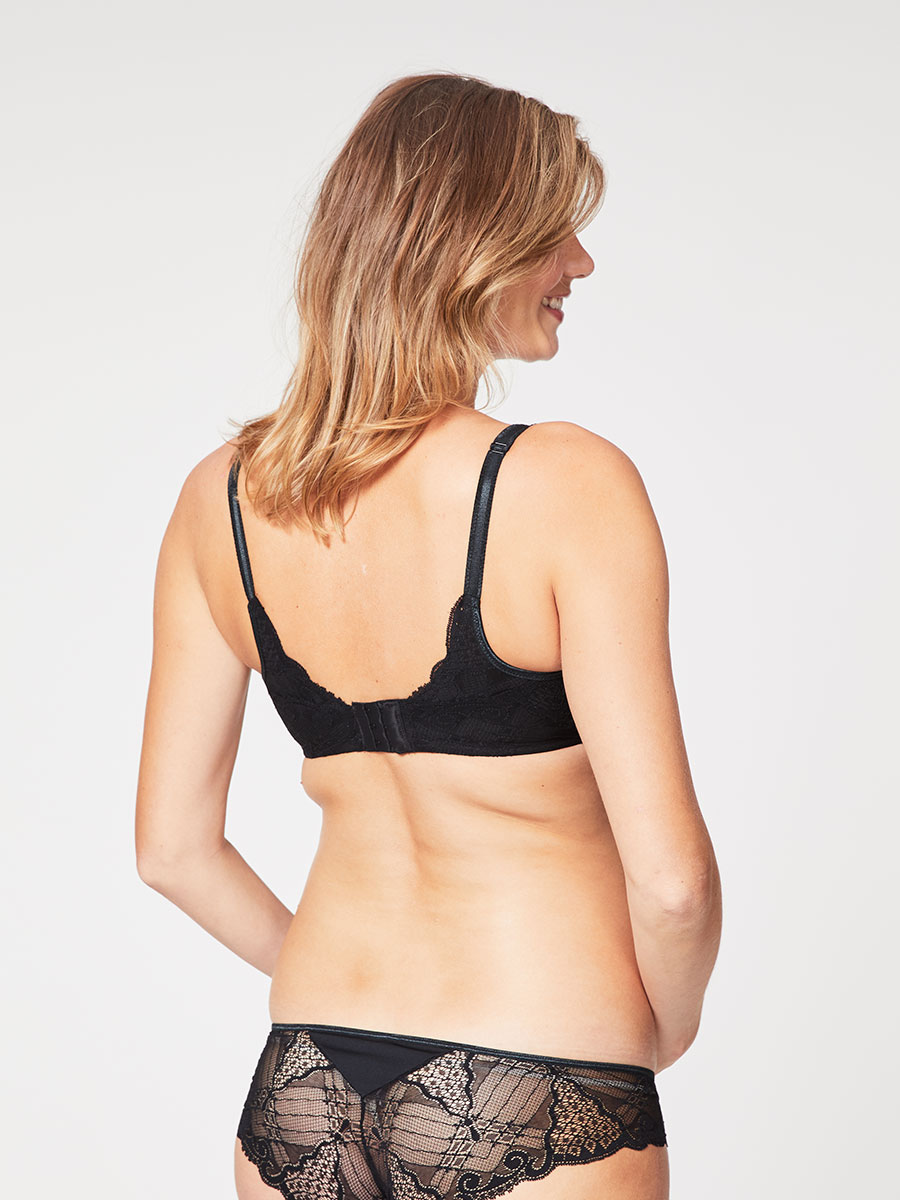 Cake Maternity
How to find the best nursing bras and maternity bras?
When shopping for a nursing bra, it's important to factor in your needs, stage of motherhood and sense of style. Far too often mamas are expected to sacrifice style for function, but here at Cake we offer a range of nursing bras which give you both.
How many nursing bras do I need?
This all depends on what your day-to-day activities are, if you're working, wearing t-shirts, pumping, running or just run off your feet. We usually recommend a minimum of 3:

One in the wash.
One in the drawer (or most likely still in the washing basket).
One on your body.
How long do nursing bras last?
This will all depend on how much you take care of them and the rigors of life, your washing technique and how often they are being worn. If you follow the care instructions, they should last 6 months at least.
There's a lot to consider when looking for a nursing bra, but as you can see, there's a lot going on with your breasts from conception through to breastfeeding. A good nursing bra will be your best friend during this time, offering support when needed, comfort and care for your breasts, as well making sure you look your best.
LIKE WHAT YOU READ?
Join CakeMama Club & get 10% OFF your first order!
Plus you'll get tips + tricks for pregnancy, postpartum & breastfeeding, get member-only offers, earn CakeCoins every time you shop + more. Learn more