Close your eyes. How do you envision your baby's environment immediately after birth?
Wrapped up snugly in a handknit pink or blue blanket?
Dozing in a white bassinet with a lace ruffle?
Nope. I'm here to tell you that your baby's perfect environment is YOU. Your warm bare chest regulates your baby's temperature, heart rate, and breathing1, 2. Your skin provides your baby with good bacteria and your breast milk provides your baby with specific antibodies and nourishment outside your womb to protect them so they survive and thrive3.
What is Immediate Skin to Skin Contact?
Immediate Skin to Skin Contact is achieved by placing your naked baby directly on the birthing person's chest with no clothing or anything in between. Direct skin touching direct skin (a diaper is fine). Skin to Skin Contact on the mother's chest is the best environment for every baby, regardless of gestation (weeks at birth), expected immediately after birth and the hours and weeks that follow as they adapt to the outside world.
UNICEF & WHO Study on Immediate Skin to Skin Contact
"When a mother holds her baby in Skin to Skin Contact after birth it initiates strong instinctive behaviors in both. The mother will experience a surge of maternal hormones and begin to smell, stroke and engage with her baby. Baby's instincts after birth will drive them to follow a unique process, which if left uninterrupted will result in them having a first breastfeed.
If baby is enabled to familiarize themselves with their mother's breast and achieve self attachment it is very likely that they will recall this at subsequent feeds, resulting in fewer breastfeeding problems."4, 5
Why NOT Skin to Skin Contact?
Depending on where you are in the world, hospital norms may make skin to skin anything but the normal environment for the baby immediately after birth. "Our care has been based on separated infants for the last 100 years; modern neuroscience shows that separation causes significant harm"6 and it may vary depending on the type of birth you have as well. The more medicalized your birth, the less likely your baby's immediate environment will be you.
"Almost everything we do to "improve" on this millennia-old self-sustaining dyad is detrimental to mother and baby." – Dr. Nils Bergman
But away from the bright lights and mechanical hum of the hospital, birthing parents know the power of Skin to Skin Contact. In my work (more on that later!), I help parents learn their baby's biological needs and how to respond to them, and if necessary, be a voice for their baby in the healthcare setting. Our instincts are telling us something — it is our job to listen to our bodies and our babies — and respond.
Why is Immediate Skin to Skin Contact important?
Optimal weight gain, brain growth, and digestion are all achieved through immediate, sustained Skin to Skin Contact7, 8. Not to mention your baby is already in the right place for getting all their nutrition. Your body produces gestation-specific milk made just for your baby. Even if you come in contact with a virus, your body will create specific antibodies to protect your baby. This makes an exclusive mother's own milk diet even more important for a baby born too sick or too soon.
Immediate Skin to Skin Contact is even more crucial for preterm infants.
The World Health Organization recently conducted a large study published by the New England Journal of Medicine and found a 25% increased survival rate for premature babies when placed on the mother's chest after birth when compared to the standard medical care in an incubator9. The survival rate for the skin to skin intervention was so profound they stopped the study early because it became unethical to continue to use the incubator when Skin to Skin Contact was clearly shown to be the babies' Right Place of Care. The results were that clear: Skin to Skin Contact saved the lives of the most vulnerable infants.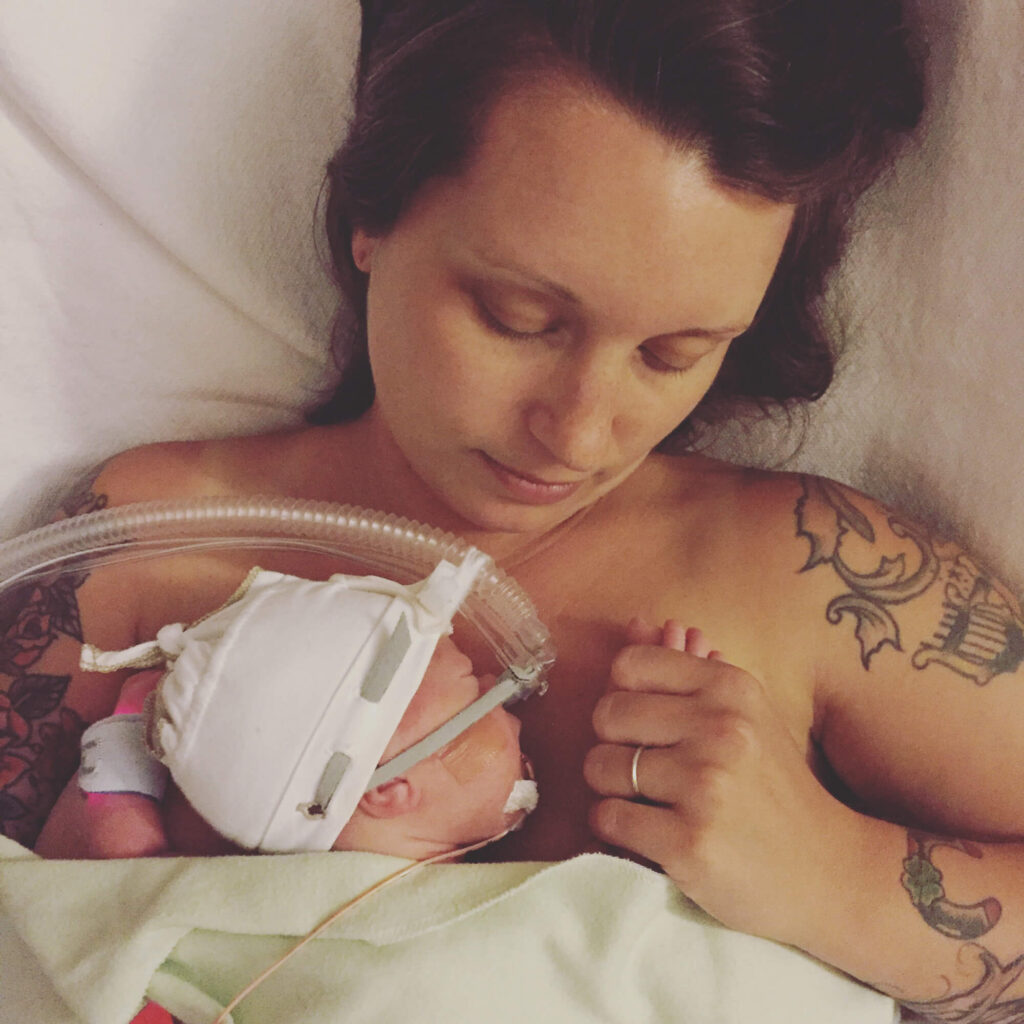 Meet your Kangaroula
Yes, that's me and my baby. I am an advocate for Skin to Skin Contact and promote it as a public health topic – but I have lived it! I gave birth to my son 12 weeks premature. My baby was tiny, could not breathe or eat on his own and I thought my body failed us. But when I was skin to skin with my son, I began to trust my body that I was still my baby's home. I became fascinated with our relationship and that I was my baby's best environment. When my son was skin to skin on my chest, his whole system would regulate. It was incredible to witness and we were able to use Skin to Skin Contact to continue my pregnancy outside of my womb.
I'm Madison Hendry, aka Mama Bird and I'm a Kangaroula – An Advanced Doula in Kangaroo Mother Care aka Skin to Skin Contact. My passion led me to organize the first cohort of registered Kangaroulas to be trained by pioneering researchers, practitioners, and educators, activists Dr. Nils Bergman, MD and Jill Bergman, Kangaroula Trainer through BirthWorks International.
Kangaroula is a portmanteau of kangaroo — marsupials that finish gestating their infants in a skin pouch on their chest — and doula, a non-medical birth support person that attends to the birthing person's physical and emotional needs during pregnancy, labor, and postpartum. A Kangaroula is there to support the skin to skin process — to help get your baby on the mother's chest immediately after birth and to provide the support needed to make sure they can safely stay there. A Kangaroula is dedicated to advocating for the baby and supporting the parents as they learn and respond to their baby's biological needs and respond to them through Kangaroo Mother Care; Skin to Skin Contact, Breastfeeding and Dyad Support. Prevention is Key. Avoiding medical intervention that makes Skin to Skin Contact difficult is the best way to ensure that your baby starts and stays on their mother's chest immediately after birth. But even when medicine is necessary (and it IS lifesaving!) Kangaroulas are key to maximizing Skin to Skin Contact. Ongoing support from a kind and skilled educator empowers families whatever their situation.
As a Kangaroula, doula, and breastfeeding educator, I provide families with honest and accurate evidence-based information, assist with their physical and emotional needs, and am a reliable resource in the community. I advocate for the best interests of the mother and infant dyad to ensure their overall health and well-being during pregnancy, birth and throughout the postpartum period.
Making it Happen
I've worked with hundreds of families and over the years; through practice and research, I have found what works best to have a positive birth experience and achieve Skin to Skin Contact with your baby after birth! Here are a few tips to support you through your own journey:
Your Birth Community Exists! Find Your Doula! Studies show having continuous physical and emotional support throughout pregnancy, labor, and birth means mamas are more likely to have a vaginal birth and less likely to have pain medications, negative feelings about childbirth, and Cesareans10. During pregnancy, get to know the doulas (labor companions) in your area, attend birth groups, listen to birth stories – and gravitate towards positive birth experiences. Find those individuals who make you feel heard, who listen, and who align with your birth preferences. A good doula knows which providers and birth environments might be the best option for you.
Gather Evidence Based Information – Optimal birth outcomes are more likely to happen when evidence based care takes place. Choose non-hospital childbirth and breastfeeding classes to obtain evidence based information from the World Health Organization (WHO). Watch all the natural birth videos, hangout with breastfeeding families, talk about birth! Normal birth supports normal breastfeeding (Smith, 2010).
Create YOUR Birth Team – You wouldn't hire an architect to design your dream home when that architect only designs skyscrapers! Midwifery Led Care is associated with good maternal infant outcomes, positive birth experiences, high breastfeeding rates and midwives who honor continuity of care during pregnancy, birth and through the postpartum period. Overall, choose your provider based on your goals. Did you know that who you choose as a provider will give you a good prediction if your birth preferences will be honored? Does this provider have a low induction rate? Cesarean rate? Your doula can help you choose the right provider for you if you don't already have one you trust.
Plan for Postpartum- Create your "mother baby nest." Understand mother infant sleep and create your safe sleep environment. Acknowledge and understand normal newborn behavior and align your expectations with reality. *Hint, hint* – I wouldn't trust the store's 'Baby Registry Must haves' – They are selling you a product. This is the false idea that we need all of the stuff. You probably don't need it. You are enough.
Closing Thoughts
Skin to Skin Contact and Breastfeeding in the first minutes, hours and weeks after birth is critical for optimal infant development and begins the healing process for both mother and baby. With each suckle at the breast, the mother gains confidence in extending her nourishment and care for her baby beyond the womb. By focusing on responding to our body's and our baby's expectations, we support the transition into mothering as well as the transition of the baby to the outside world a little easier by creating a safe place that provides warmth, comfort, and food.
When I speak to families about the Importance of Skin to Skin Contact after Birth —
The moms who got to do it, cry.
The moms who didn't, cry.
Why? Because Skin to Skin immediately after birth is THAT important.
About the author:
Madison Hendry is a Birth Worker and Mother Artist based in Cleveland, OH. Madison teaches Breastfeeding and Mother Infant Care classes, Speaker, Certified Birth Doula(BWI), Registered Kangaroula (Advanced Doula in Skin to Skin Contact) and is an Advocate for Zero Separation for premature babies and their mothers after birth. She holds a MFA in Sculpture from Brooklyn College and has exhibited her works on motherhood internationally. Her most recent exhibition includes, Mother Art Prize with Procreate Project, Cromwell Place, London. She has trained with world renowned, Jill & Dr. Nils Bergman and BirthWorks International. Madison just received a grant from University Hospitals Rainbow Babies and Children Neonatal Intensive Care Unit (NICU) to pioneer the first Kangaroula Program in the United States to increase Kangaroo Mother Care and improve maternal infant outcomes.

References
1) M Ludington-Hoe, S. (2011). Evidence-based review of physiologic effects of kangaroo care. Current Women's Health Reviews, 7(3), 243-253.
2) Evereklian, M., & Posmontier, B. (2017). The impact of kangaroo care on premature infant weight gain. Journal of pediatric nursing, 34, e10-e16.
3) Bergman, J., & Bergman, N. (2010). Hold your Premie: A workbook on skin-to-skin contact for parents of Premature babies. New Voices Publishing.
4) Selim, L. (2018). Breastfeeding from the first hour of birth: What works and what hurts. New York: UNICEF.
5) Widström, A. M., Lilja, G., Aaltomaa‐Michalias, P., Dahllöf, A., Lintula, M., & Nissen, E. (2011). Newborn behaviour to locate the breast when skin-to-skin: a possible method for enabling early self‐regulation. Acta paediatrica, 100(1), 79-85.
6) Bergman, J., & Bergman, N. (2013). Whose choice? Advocating birthing practices according to baby's biological needs. The Journal of Perinatal Education, 22(1), 8-13.
7) Moore ER, Bergman N, Anderson GC, Medley N. Early skin-to-skin contact for mothers and their healthy newborn infants. Cochrane Library. 2016: https://doi.org/10.1002/14651858.CD003519.pub4
8) Bergman, N. J., Linley, L. L., & Fawcus, S. R. (2004). Randomized controlled trial of skin-to-skin contact from birth versus conventional incubator for physiological stabilization in 1200-to-2199-gram newborns. Acta paediatrica, 93(6), 779-785.
9) WHO Immediate KMC Study Group. (2021). Immediate "Kangaroo Mother Care" and Survival of Infants with Low Birth Weight. New England Journal of Medicine, 384(21), 2028-2038.
10) Klaus, M. H., Kennell, J. H., Klaus, P. H., & Klaus, M. H. (2012). The doula book: How a trained Labor Companion can help you have a shorter, easier, and healthier birth. Lifelong Books/Da Capo Press.